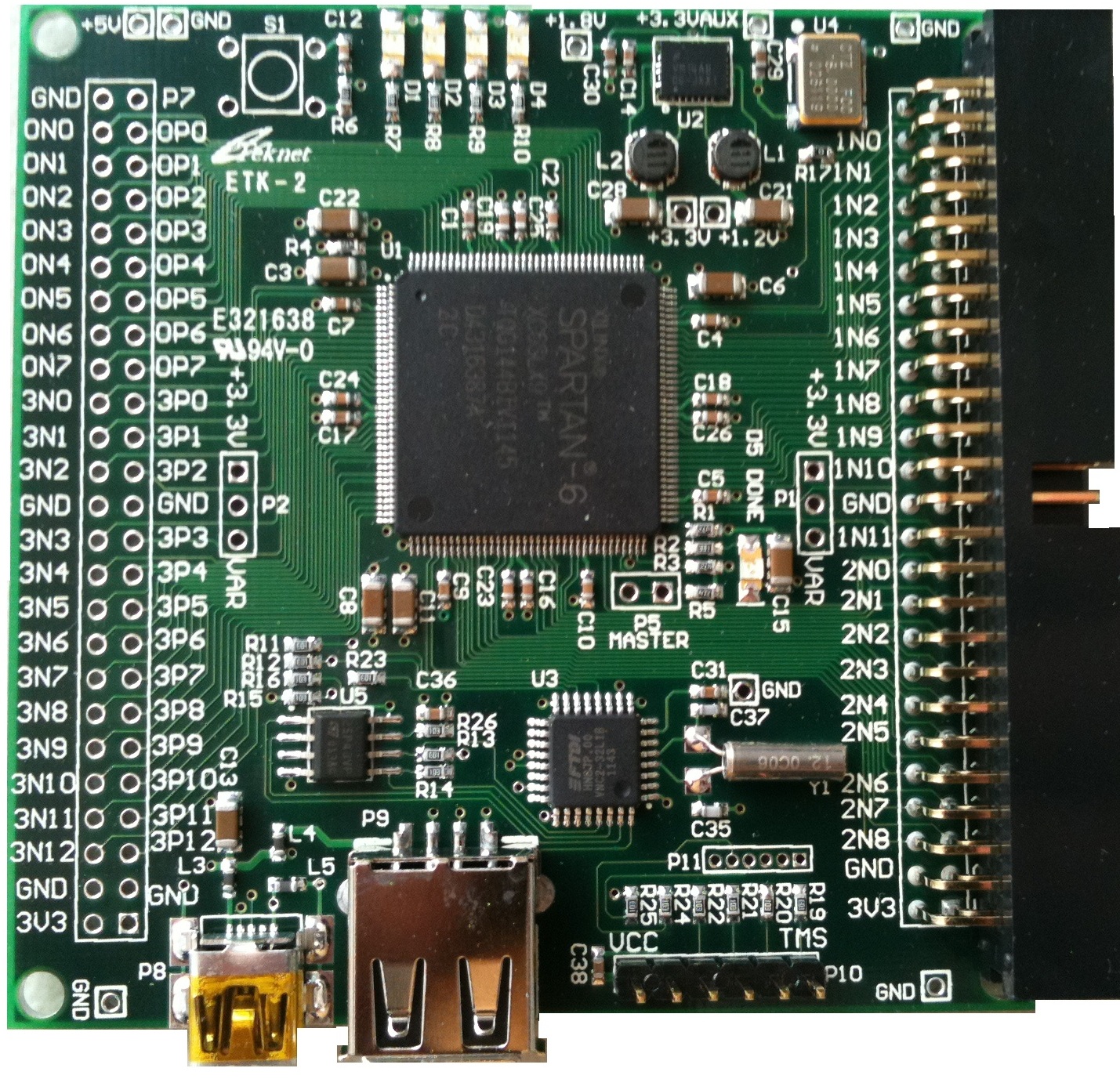 Spartan-6TM FPGA Board
Part number: FPGADEVS6-X1 as shown in photo
The S6 FPGA Board consists of a Spartan 6 FPGA , serial configuration PROM, user-programmable USB microcontroller with one mini-B USB Device port and one A Host port. The 3"x3" board can be powered from the mini-B USB connector, or external +5V supply, and provides multiple outputs from the on-board switching power supply, or external I/O voltage to match logic levels for OEM and development applications.
Features
FPGA breakout board for the Spartan 6

Program serial configuration PROM via USB Thumb Drive

Standard FPGA and serial EEPROM programming via JTAG

Optional $49 USB cable supports iMPACT, ChipScope, EDK

User programmable FTDI 16 bit USB Flash micro w free C IDE

USB controller can be programmed as virtual USB COM port

Power sourced from USB host/charger or external +5V

Rapid product development, compatible with most development tools

Low cost OEM version available for dedicated applications
Customized board configurations available
The FPGA configuration file can be loaded into the on-board serial configuration PROM automatically by inserting a standard USB thumb drive into the host connector prior to application of power to the board. This enables configuration in the field without a special expensive programming cable for quick and easy updates. The FPGA can also be loaded directly and the on-board serial PROM can also be programmed via the standard 6-pin 0.1" JTAG connector. The JTAG connector is compatible with Xilinx compatible programming cables using Xilinx iMPACT, ChipScope and EDK. It can be programmed with a Xilinx compatible parallel or USB JTAG cable, such as the Xilinx Platform USB cable. We also offer a compatible $49 USB Platform cable equivalent to the Xilinx cable. The FPGA or serial PROM can also be programmed under control of a user-customized program running on the on-board 16 bit USB Flash microcontroller chip. This board provides the user with several options to download, test, and debug designs for prototype or production systems. Two 50 pin connectors that can be used to interconnect with other boards in the 3x3 series including I/O, CPU, FPGA, optional 3x3 I/O boards, and customer designed interfaces. The OEM version of the board can be the final target for the application, or it can easily be customized. The OEM board can be ordered with any combination of straight-through stackable connectors (like PC/104), right angle 50 pin connectors, or without either connector. The Development Board can be stacked or connected horizontally to expansion interfaces such as the optional user I/O board, peripheral interface boards or customer specific designs for a specific application. Open-source hardware, UCF configuration, software and other design files are also available to simplify the implementation of customer designed compatible boards.
The FPGA board provides powerful functions to assist the designer in the integration, debug and test phase of FPGA project development. The Development Board provides GPIO pin interface pins on standard 0.1" grid header for connectors. The JTAG and USB processor connectors allow for powering, debugging and downloading programs to the FPGA, USB microcontroller, or serial EEPROM from a PC.
In addition, the Development Board can prove invaluable as an educational tool for learning about reconfigurable logic design, FPGAs, microcontrollers, and USB interfacing.
Complete Specifications:
• Xilinx Spartan-6 XC6SLX9 FPGA in a 144 pin TQFP package
9,152 logic cell equivalents
Thirty-two 18K-bit block RAMSs (576K bits)
Sixteen DSP48A Slices
Two Digital Clock Managers (DCMs)
Up to 102 user-defined I/O signals
• 4Mbit Serial SPI serial EEPROM, for in-system configuration PROM
• JTAG port for low-cost download cable
• Dual USB Controller (FTDI VNC2-32)
Type A USB Connector
Type Mini-B USB Connector
• 8 MHz Crystal Clock Oscillator
• Two 50 Pin Expansion I/O Connectors with 84 Pre-Assigned I/O Pins
• 4 On-board LED 's
• On-Board Power Supply using National LP3906 Quad Regulator
+3.3V @ 1.5 A (I/O Operating Voltage for FPGA I/O and external use)
+1.2V @ 1.5 A (FPGA Core Voltage ONLY)
+3.3V @ 300 mA (FPGA Auxillary Voltage)
+1.8V @ 300 mA (Secondary I/.O Operating Voltage)
(Above is for an external +5V supply. USB power sources typically limit loads to 500mA)
Xilinx, Spartan, iMPACT, ChipScope, and Platform USB cable are trademarks of Xilinx Inc.